How to generate quality contents for an online store
What should I tell you about? Focus on what you should do or what you shouldn't? Nice dilemma.
Let's start by laying the groundwork. Content marketing (and contents) are becoming more and more important. Here's a graph mentioned by Natzir in his Twitter account so you can get an idea of how important contents are becoming.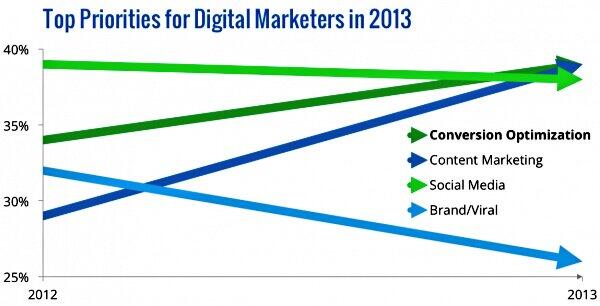 Ok. Let's get moving. How to create good contents for your online store? First of all, you should define your goal:
 SEO
Attracting users
Generating trust
Answering questions / being useful
Another goal
You will usually say "SEO", because that's what spring into most people's minds when they think about contents. That's not bad at all, but if you write for SEO, you need to know how to write for SEO.
Some very good agencies specialize in this, and they are much less likely to mess up when they write for SEO.
Let me explain. You will usually say "I'm going to generate some contents. These are the keywords I'd like to position", or "I'm going to generate some content by answering a user's question, and I've read that the Hummingbird algorithm is good for that".
Well, that's OK if you do it well, but if you do it badly it can even damage your SEO (keyword stuffing, indiscriminate generation of links, etc.)
Ideally, you should say "I'm going to try and be useful and generate trust". Indirectly, this will bring:
a) Qualified traffic: people looking for those contents, which are related to what you sell.
b) Trust: people will see that you know what you are talking about.
c) SEO: if the content is good, it will be shared in social media.
So good contents should essentially be something that add value for users.
Relevant contents, important information, answering questions, a post that displays your expertise in the matter answering people's queries, a tutorial, a video-tutorial, a study, a report, an inphographic, an e-book, a hangout/chat with a summary of answers and questions, etc.
You will find the way to include your links and keywords in those contents, but don't worry about it. You shouldn't consider writing a post just for SEO purposes. There is something worse than Google catching you doing that, and it's users catching you red-handed. Users are not stupid and they are perfectly able to distinguish an informercial full of links from something that adds value.
Here are some examples of good contents in corporate websites and online stores:
The contents are generated by the Humanlevel team. In addition to the high quality of the contents (because the team is very experienced), they do something I love: live blogging. They go to events and write posts about the speeches (on the fly, if you will), and publish them as soon as each speech ends. This makes their posts hugely relevant and fresh.
One of my clients, my beloved Arrobapark, generates contents that add a lot of value to anyone who owns a parrot. How to set up a cage, how to feed an Agaporni, how to find the sex of your bird… Not only do they generate traffic, but they have also positioned themselves about experts in their field (parrots).
The DueHome team selects the topics and Laia Ordóñez writes them for the corporate blog. The DueHome blog talks about decoration trends and modern designers and includes furniture reviews. The blog positions the company as an expert in the product they sell, makes it fresh on a weekly basis, and helps SEO.
The Kissmetric team and blog are awesome. The blog discusses (very, very frequently) CRO, SEO, content, emailing, etc. Anyone who works in the online marketing sector knows this blog. Their posts have a very high dissemination rate – 170,000 Twitter followers can't be wrong.
The SEOCOM team's corporate blog on SEO, SEM, and reputation. Very good in terms of the contents, which add value both for potential clients and to people in the industry, with some wonderful references and extremely well designed interactive infographics, such as the one about SEO factors, which have attract plenty of incoming links and social media attention.
Subscribe to our mailing list